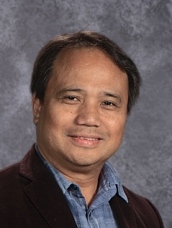 Dear Holy Family Grade School Parents and Students,
It's me, Mr. Makiling, your music teacher. This is my 25th year of teaching here at Holy Family Grade School and I'm proud and excited to be with you again this year. I welcome you all to the school year 2023-2024!
Music is an essential part of our lives. In the words of Plato – "Music is a moral law. It gives soul to the universe, wings to the mind, flight to the imagination, and charm and gaiety to life and to everything."
M – Music
U – Unlocks
S – Self-expression
I – Intelligence
C – Creativity
Our school has one of the most eclectic, vibrant, and unique music curricula in the area, incorporating the California Content Standards/Common Core for Music into the lessons, emphasizing in singing sacred songs from chant to modern as well as school-appropriate non-sacred or secular songs. Learning to read and sing choral music with different languages, solo, group or class performances are always encouraged. We study the life of past and living composers, their works, and music theory. Our music at HFGS has been using technology as an integral tool for our program of study (e.g. iPad, computers, projectors, virtual keyboard, Garageband for 6th, 7th, and 8th and other music apps).
From the previous years before the pandemic, the whole school has been holding three spectacular themed concerts per year during Fall, Christmas, and Spring. We hope to go back what we've love doing, entertaining our families, friends, and Holy Family community.
Do you want to learn more about HFGS music? I invite you to come on in, for a fun, and exciting learning experience throughout the year.
I look forward to seeing you all, and wish you the best in achieving landmarks as the year progresses.
Sincerely,
Mr. Tom Makiling
General Music Teacher, Holy Family Grade School,
Music Director and Conductor, Holy Family Filipino Chorale
Music Director and Conductor, Holy Family Children's Concert Chorus
Associate Music Director, Holy Family Catholic Church
Glendale, California
"As each one has received a gift, use it to serve one another as good stewards of God's varied grace."   1 Peter 4:10